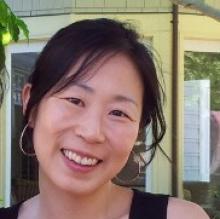 Professor Hyaesin Yoon, Assistant Professor, Department of Gender Studies, Central European University, Budapest, was a Visiting Scholar at the University of Cambridge Centre for Gender Studies for the Easter Term 2018. 
Professor Yoon's areas of interest include transnational biopolitics, postcolonial criticisms, posthumanisms, performance theories, and medical humanities. Her research focus is on how technological assemblages of humans, animals, and machines mediate the relations of sex/gender, race, disability, and species in a transnational context. She is presently completing the manuscript for her book, Prosthetic Memories, which explores a postcolonial feminist ethics of embodied memory in the transnational circuits of soma-technology. In this book, she engages with a number of sites across the United States and South Korea including tongue surgery (for improved English pronunciation), dog cloning, and human stem cell research.
Professor Yoon is incubating a new research project on the relationship between people with dementia (especially Alzheimer's disease) and non-human technologies, such as artificial intelligence, therapy robots, virtual reality devices, and smart cities. This research aims to offer a feminist approach to the discourses of "good" living, aging, and dying, as well as their bearing upon the organisation of self, kinship, and community in the context of the global population, aging and the biomedicalization of dementia.