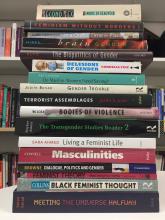 The Gender Research Seminars offer academics and postgraduate students an opportunity to present their work-in-progress to a multi-disciplinary audience interested in gender, in a friendly and informal atmosphere. Seminars are held on specified days during Michaelmas and Lent terms and everyone is welcome to attend.
The seminars are organised and chaired by Sigal Spigel. If you would like more information about this series, or are interested in presenting your work at a Gender Research Seminar, please email Sigal at sis22@cam.ac.uk
*Please note that the first two Gender Research seminars in Michaelmas term 2021 will be held online only.
The research seminar on Monday 15 November will be held in-person only with limited places available and the seminar on Monday 29 November will be held in-person and online. 
Registration for attending the seminars will be via Eventbrite and will close at 9.00 am on the day of the seminar. Once registered, participants will receive a zoom link via email shortly before the seminar commences. 
To attend the seminar on Monday 29 November in-person please email: Vincenzo Paci, UCCGS Administrative Assistant, vmp34@cam.ac.uk
Academic Year 2021-22
Michaelmas term 2021:
1.00 - 2.00 pm, Monday 18 October 2021
Lola Olufemi
Researcher and Writer, Author of Feminism, Interrupted: Disrupting Power
In Search of an Imaginative Method
Please register for this seminar at the Eventbrite registration link
2.00 - 3.00 pm, Monday 1 November 2021
Professor Jules Gill-Peterson
Associate Professor, Department of History, Johns Hopkins University: General Co-Editor, Transgender Studies Quarterly
Being Street: On the Evidence of Trans Feminine Experience
1.00 - 2.00 pm, Monday 15 November 2021
Dr Lucy Delap
Faculty of History, University of Cambridge
Feminism, Race and 'Third World Women' in Late Twentieth Century Britain
Venue: Room SG2, Alison Richard Building, University of Cambridge, 7 West Road, Cambridge CB3 9DP
Please register for this seminar at the Eventbrite registration link:
1.00 - 2.00 pm, Monday 29 November 2021
Dr Julieta Chaparro Buitrago
Reproductive Sociology Research Group (ReproSoc), University of Cambridge
Toward a Decolonial Reproductive Justice and the Cases of Forced Sterilization in Peru
Venue: Room SG2, Alison Richard Building, University of Cambridge, 7 West Road, Cambridge CB3 9DP
Please register for this seminar at the Eventbrite registration link: