Race Talks Seminar Series
Thursdays, bi-weekly: 2.30 to 3.30 pm
The series will recommence on Thursday 20 October 2022.
Thursday 20 October
Accounting for Pleasure: Enslaved Women's Property Ownership in Mississippi
Camille Borders, Princeton University 
---
Thursday 3 November
Chinese Traditions and Marriage Equality
Marco Wan, University of Hong Kong
---
Thursday 17 November 
Social Death and Rastfari Reason
Robbie Shilliam, Johns Hopkins University
---
If you'd like to attend any of the seminars please register via Eventbrite.
Convenors: Ola Osman, PhD Candidate, UCCGS (oo273@cam.ac.uk) and Mansi Hitesh, PhD Candidate, Emory University (mansi.hitesh@emory.edu)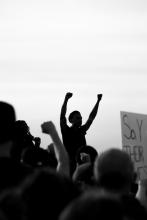 Race Talks is a bi-weekly seminar series that investigates processes and histories of race and gender making. Race Talks is attuned to the ways in which universities as institutions are animated by histories of colonialism, which in turn shape the organisation of knowledge production as well as citational practices. In view of this fact, we are particularly committed to inviting scholars of colour in a feminist effort to honour the radical intellectual work that emerges from the margins.
The Race Talks seminar series aims to foster critical conversation about race, racialisation, and processes of race-making. The seminar series will provide a forum for students from across the University who are interested in integrating critical race approaches and feminist scholarship in their work. It may be of particular interest to students in the University of Cambridge Centre for Gender Studies and those working with the Race Research Cluster in the Department of Sociology.
At each seminar, an invited speaker will give a short talk about the seminar topic and then invite participants to share their reflections. Each seminar will also have a curated reading list, which participants will be encouraged to read beforehand and prepare questions and thoughts to share with the rest of the group.
If you would like to attend Race Talks, please email Vincenzo Paci, UCCGS Administrative Assistant, vmp34@cam.ac.uk and ask to be placed on the mailing list.
Photo credit Tito Texidor III on Unsplash